SUPPORTING YOUTH IN ENVIRONMENTAL STUDIES
In years past, FRCC has awarded the Pat Keener and Nancy Johnson Scholarships ($1,000) to eligible high school and/or college student from one of the five riverfront towns (Barkhamsted, Canton, Colebrook, Hartland and New Hartford) going on to college to study environmental science.
FRCC will no longer be giving out scholarships in 2021, as the Pat Keener and Nancy Johnson Scholarship funds have all been awarded.
---
2020 Scholarship Recipient

FRCC is pleased to announce we have awarded The Pat Keener Scholarship of $1,000 to Victoria Duffy of New Hartford. Victoria is a hard-working student with many accolades. She has been involved in her local Envirothon Club, FFA, volunteered for the Winchester Land Trust, earned a 4.54 GPA from Northwest Regional High School - just to name a few of her accomplishments. Victoria plans to attend UCONN in the fall, majoring in Environmental Science.

An excerpt from Victoria's essay:

"I am interested in this scholarship because I plan to receive a BS in Environmental Science with a focus on sustainable farming and energy. I plan to dedicate my life to researching and developing healthier alternatives to energy, farming practices, plastic production, and so much more, and this scholarship would help me achieve my childhood mantra--to save the world."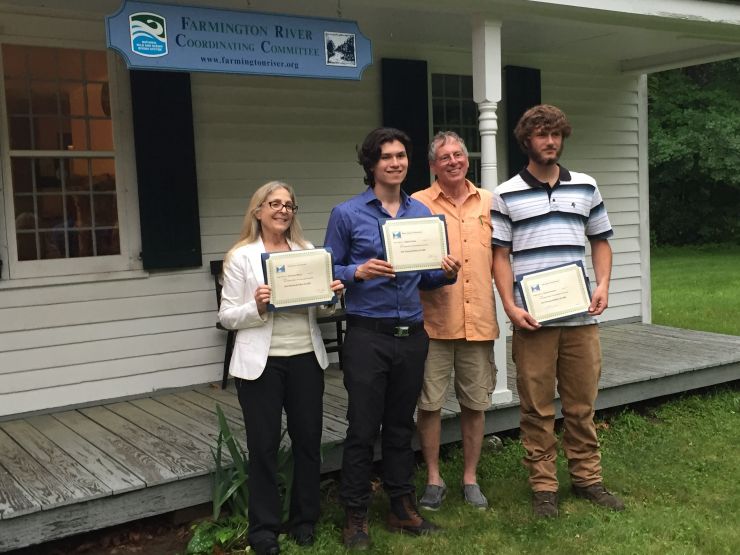 2017 Scholarship recipients Autumn Maust (her mother accepting on her behalf), Gabriel Ortiz, and Daniel Hoskins.